Samuel Gridley Howe
( 1801-1876 )
United States of America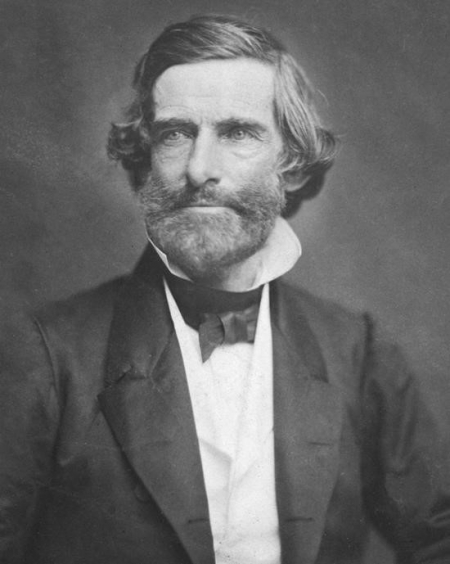 He studied medicine at Harvard. Upon graduation, he decided to join the Greek War for Independence. He served the Greek cause as both a soldier and a medical doctor for six years; he organised the army's medical service at a time when infections ran rampant. In Missolonghi he met Byron; after the latter's death, Howe kept the poet's helmet; it was handed over to the Historical and Ethnological Society by his daughter, Maud Howe Elliott, in 1925.
In March 1825, Howe was appointed surgeon at the Patras military camp. After Ibrahim's advance, Howe headed to the Neokastro camp; from there he arrived in Nafplio via Kalamata and Hydra. From on-board the steamer Karteria, under Hastings, he later organised the surgery service of the fleet.
He briefly returned to Boston, where he raised $60,000 to contribute to the Greek cause. Back in Greece, he established a medical care centre for the civilian population of Aegina. He also set up a model refugee settlement at the Isthmus of Corinth and a hospital on Poros.
In 1828 the great philhellene wrote An Historical Sketch of the Greek Revolution. He also left a journal of his activities in Greece, published by his daughter in 1906 under the title Letters and journals of Samuel Gridley Howe During the Greek War of Independence.
He returned to the United States for health reasons, where he continued his charitable work, running a school for blind children in his family home. In 1833 the State of Massachusetts tasked him with organising a state school for the blind – in fact it catered to the blind, deaf and dumb, who had been neglected until then.
When the Cretan Revolution broke out in 1866, Howe left the management of the school to his associates and toured the United States to rally support for the fighting Cretans. He organised fundraisers once again and came to Athens to hand out the proceeds to the Cretan refugees. He would remain in Greece for three more years, pursuing his public-benefit work, as well as supporting schools and refugee children from Crete.
Howe was one of the noblest philanthropists and liberal philhellenes known to both Greece and the United States. During the American Civil War, he advocated the emancipation of slaves; his wife, Julia Ward Howe, composed the famous "Battle Hymn of the Republic" – as familiar to Americans as the national anthem.
Thanos Veremis, Professor Emeritus, University of Athens