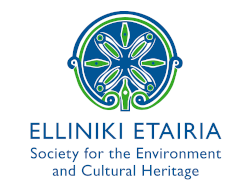 ELLINIKI ETAIRIA - Society for the Environment and Cultural Heritage – a non-profit NGO – has since 1972 been active in the fight for the preservation of the natural environment and our cultural heritage.

During the last 48 years ELLINIKI ETAIRIA has fought many important battles, for the saving of important monuments and historic landscapes. ELLET is also active in environmental education, in protecting the seas and the forests and in planning for sustainable tourism, carrying capacity and environmental tax reform.
And all this thanks to the contributions and collaboration of sponsors, scientists, volunteers, members and friends.
ELLET is also the official representative of Europa Nostra in Greece, an NGO with a pan-European scope and an extensive network of professionals and volunteers who work diligently to preserve Europe's cultural heritage. (Europa Nostra Awards, European Heritage Awards & 7 Most Endangered Programs).
Main aims of ELLET for the following years
• integrated approach to the environment and cultural heritage
• increasing awareness regarding climate change
• continuous and constructive dialogue with the state.
• encouraging further collaborations with organisations within Greece and abroad
• protection of monuments and historic complexes
• awareness of the value of public space and the need to protect it
• working closer with the Greek diaspora
Τριπόδων 28 | T.K. 105 58 Πλάκα
210 3225245
elet@ellinikietairia.gr