Louise Riencourt
( 1846-1941 )
France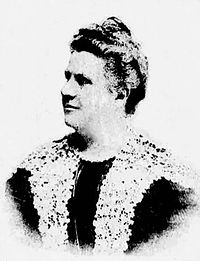 Born in early January 1846 in Saint-Didier, in south-eastern France, she was of noble descent, her father being a marquis. From an early age, she was familiar with the Greek civilisation and admired its achievements. After reading an article about the fall of Constantinople and its last emperor, Constantine Palaiologos, at the age of five she became interested in Byzantium and its history. Her interest in Greece only grew with time. Despite her Roman Catholic faith and her parents' aversion to anything Greek, she strongly liked the Greek nation and sympathised with the hardships they suffered under the long Ottoman rule. She learned Greek on her own and associated with prominent Greeks who visited France.
At a young age and despite the objections of her family, she decided to travel to Greece, which she came to love sincerely, developing strong philhellenic feelings. During her stay in Athens, she met with the most important families of the Athenian society and developed close friendships. In 1877 she got married to a wealthy landowner, Count Olivier de Riencourt; they had two children, Raoul and Eliza. However, her philhellenic activity did not stop, and she returned to Greece once again, undertaking a number of initiatives for the promotion and support of the Greek cause.
In 1896 she and her husband decided, choosing among several countries, to settle permanently in Greece, in response to a hostile political climate in France. Accordingly, they built strong relationships with both Greeks who lived in or visited Paris and organisations that fought for the Greek cause. One of the former was the well-known scholar, poet, and novelist Dimitrios Vikelas, who had established the Association for the Dissemination of Greek Letters. Riencourt began to contribute substantially to the association's public-benefit work (establishing schools, training teachers, publishing books); in 1900 the French countess was made an honorary member.
It was during the same period that Riencourt came into contact with the academic Neoklis Kazazis, professor at the Department of Philosophy of Law and rector of the University of Athens; he was co-founder of Ellinismos, an organisation with extensive public-benefit activity in Greek education, which also published the magazine of the same name, with a branch in France.
After her husband's death, Riencourt and her son, Comte Raul, sought to obtain Greek citizenship. In the years 1901 and 1902, respectively, her son and she were registered as residents of Athens, became Greek citizens, and settled in Greece. Louise's home soon became a meeting place for princes, nobles, and the upper echelons of the Athenian society; she spent the summers in the exclusive suburb of Kifissia. Stefanos and Ion Dragoumis, and Pavlos Melas, were frequent visitors. They would discuss the issues facing Macedonians, especially regarding the establishment of schools, rehabilitation of local Macedonians who were in poverty due to the destruction of their property by Bulgarian attacks, the education of Macedonian children in free Greece. She regularly supplied funds towards raising guerrilla groups, including of Cretans under Pavlos Melas in 1903, and military campaigns.
Throughout her long life, Countess Riencourt was distinguished for her philanthropy and generosity; she organised charitable events to provide relief to orphans and the afflicted. Her activity was multifaceted, including grants to school children in need, supporting the Agia Eleni Hospital and the Asylum for the Disabled, which catered to people with incurable and chronic diseases, and large donations to clubs and associations. Riencourt, however, was not concerned about the future of Greece only, but also about its past: She contributed to the preservation and promotion of the Greek cultural heritage by donating to the Numismatic Museum a valuable collection of rare Byzantine coins which she had acquired for a substantial sum from the widow of the Russian consul and collector, Troyansky, which is named in her memory. She also donated an enormous amount of money to the Patriarchate of Jerusalem towards the Church of the Holy Sepulchre and left one-eighth of her property to the Ecumenical Patriarchate of Constantinople for the needs of Hellenism.
In addition, Countess Riencourt established and financed schools and prestigious institutions, including the Hellenic Royal School of Crafts for women. She also supported the Athena Ergane Women's Association for folk art and the Lyceum of Greek Women.
Countess Louise Riencourt died of old age in Athens on February 27, 1941, shortly before the city fell to the Germans.