Henri de Rigny
( 1782-1835 )
France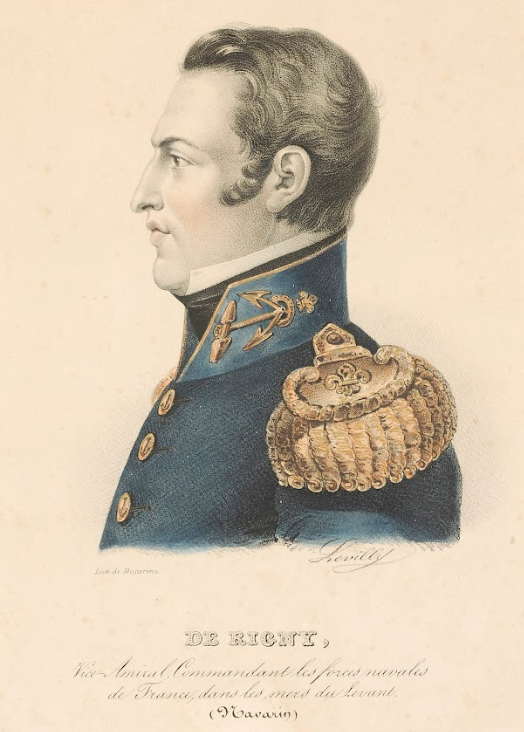 Marie Henri Daniel Gauthier, Comte de Rigny was a French nobleman, statesman, and admiral of the French fleet in the Battle of Navarino (October 20, 1827). He was born in Toul, in Lorraine, in 1782. Despite his noble birth, he had a difficult childhood. He lost his father at the age of ten and was raised by an aunt. When the French Revolution broke out, he was removed from the prestigious school he attended and, aged 16, in 1798 he entered the navy and followed Napoleon in his Egyptian campaign. He participated in many more naval battles and campaigns during the Napoleonic Wars.
After Napoleon's defeat at Waterloo (1815) and the restoration of the French monarchy, de Rigny retained his position in the French navy, enjoying the favour of his uncle, a baron, who had been appointed minister of Finance. He was elevated to the rank of captain and in January 1823 assumed command of the French naval forces in the Levant, at a time when the War for the Greek Independence was waging. He had feelings of sympathy for the Greek uprising; on several occasions he tried to help the Greeks, without, of course, deviating from his orders. He participated, for instance, in the negotiations between the Acropolis garrison and Kütahı in the summer of 1827, in fact ensuring the release of several Greek prisoners. Also notably, he met with Ioannis Makriyannis at the Mills in 1825. The Greek general gave an account of the meeting in his Memoirs, writing how the French captain expressed his wonder over the way the Greeks fortified themselves. Makriyannis replied that the Greeks had the help of God and that they were used to fighting against numerically superior enemy forces, to which de Rigny exclaimed, "Très bien", indicating the French officer's satisfaction.
De Rigny is famous in Greece mainly for his participation as Commander of the French Squadron in the historical Battle of Navarino, on October 20, 1827, together with British and French fleets. The battle resulted in the sinking of Ibrahim Pasha's Turco-Egyptian fleet, paving the way for the successful settlement of the Greek question and the independence of Greece. His return to France was triumphant. He was awarded the title of Count and appointed maritime prefect of Toulon. He also received the decoration of the Grand Officer of the Legion of Honour. He soon became involved in politics, and in 1831-1834 he was minister of the Navy; a brief term as minister of Foreign Affairs followed. He died on November 6, 1835, at the age of 53.