Frank Abney Hastings
( 1794-1828 )
United Kingdom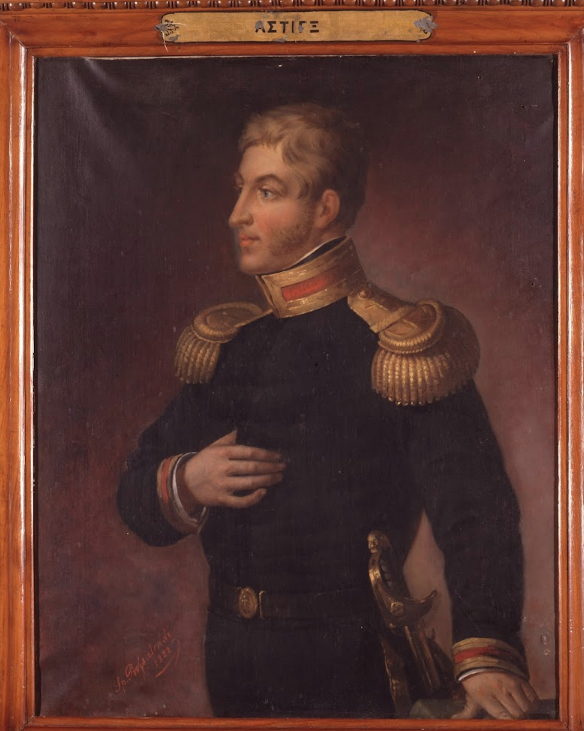 Hastings is the most famous British philhellene after Byron. His father being a general, he had a promising career in the British Navy ahead of him – yet he clashed with a superior and resigned. He arrived in Greece via Marseilles and volunteered on board Tombazis's corvette. He showed his mettle in the naval operations off the islands of Tenedos and Lesvos. When Dramalis moved to take the Peloponnese, Hastings enlisted in the army. Alongside other philhellenes, he took part in the successful defence of the fortress of Nafplio (Bourtzi).
When Manolis Tombazis was appointed commissioner for Crete in 1823, Hastings followed him in his naval campaign there but contracted malaria and, after the operation failed, returned to Hydra.
In June 1824 he submitted a memorandum to the Greek government regarding the purchase of a steam-powered warship, for the purchase of which he would contribute funds of his own. In 1826 he oversaw the construction of the Karteria, which he commanded most successfully.
In January 1827 Hastings became a squadron leader under Gordon to cover the landing of Greek forces at Salamis. He then bombarded the Ottoman forces in the Monastery of Agios Spyridon using the Karteria guns. In February he blocked the shores of the Eretrian Gulf, the Gulf of Malia, and all of Evia. A number of military achievements by the great naval hero followed.
On September 10, he sailed, for lack of coal, first to Rio and then to the port of Salona, where seven Turkish ships were anchored. Within half an hour, Karteria and other Greek ships burned the Turkish ones and took their guns. Three Austrian ships also in the Amfissa Gulf, which were cooperating with the Ottomans, were seized by Hastings.
Ibrahim invoked Hastings's operations in the Corinthian Gulf to justify leaving the port of Pylos, thus provoking the intervention of foreign forces at Navarino on October 8, 1827.
On another occasion, Hastings sank an Austrian schooner protected by the guns of the Ottoman garrison at Patras. With two Greek schooners and the three seized Austrian ships, Hastings carried out the orders of General Church to land Greek forces in Acarnania; he then conducted an attack against the islet of Vasiladi off Missolonghi. The Karteria blew up the powder magazine of the island, forcing the Ottomans to surrender on December 15.
In January 1828, Kapodistrias tasked Hastings with recapturing Aitoliko and Missolonghi. During the battle, Hastings was wounded in the arm and taken to Zakynthos, where he died of tetanus on May 20, 1828, aged only 34. The Greek navy lost a great hero.