Charles Lenormant
( 1802-1859 )
France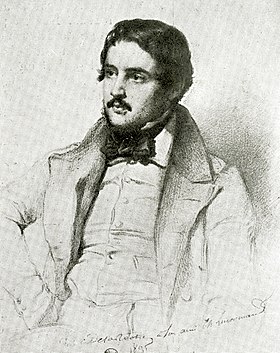 French archaeologist, born in Paris on June 1, 1802. After graduating from the Lycée Charlemagne, he went on to study law – a family tradition since his father was a notary. However, after he travelled to Sicily in the early 1820s, where he became acquainted with Greek antiquities, Lenormant decided to abandon law and devote himself to archaeology. In 1825 he was appointed art curator in the household of King Charles X of France; shortly afterwards, he got married to Amélie Cyvoct, niece and adopted daughter of Juliette Récamier (1777-1849), a prominent member of Parisian philhellenic circles. The two women were influential in shaping Lenormant's political, intellectual, cultural, and religious views. He and his wife had four children, including François Lenormant, who went on to become an archaeologist, Hellenist, and eminent Assyriologist.
In 1828 Lenormant accompanied the famous Egyptologist Jean-François Champollion to Egypt. From there, he travelled to the warring Peloponnese and joined, as deputy director of the Department of Archaeology, the French expeditionary force, which sought to clear the combined Turco-Egyptian forces from the region. In 1830 he returned to France and briefly became director of the Art Department of the Ministry of the Interior. In the following years, Lenormant was successively curator of the Bibliothèque de l'Arsenal in Paris, deputy curator of coins and medals, curator of printed books, and director of coins and medals of the National Library of France.
In 1836 François Guizot, minister of Education and holder of the chair of Modern History at the Sorbonne, gave Lenormant the opportunity to teach ancient history at the famous university. In 1839 Lenormant became a member of the Academy of Inscriptions and Letters of France. Two years later, Guizot as minister of Foreign Affairs sent Lenormant on a new mission to Greece. In the mid-1840s, however, Lenormant was compelled to give up his professorship at the Sorbonne, following student protests about his role in the removal of history professor Edgar Quinet from the Collège de France. Lenormant then became editor-in-chief of the French journal Correspondant, a post he held until 1855. In 1848 he became director of the historical monuments commission and in the following year, after the death of the French archaeologist Jean Antoine Letronne, he was elected professor of archaeology at the Collège de France. He died on November 22, 1859, in Athens, after a brief illness, during what was to be his last mission to the Argolid.
During his long academic career, Lenormant showed a special interest in the ancient civilisations of Greece and especially of Egypt; he left a rich legacy of monographic studies and contributions to scientific journals (Annales de l'Institut Archéologique de Rome, Revue de Numismatique, Mémoires de l'Académie des Inscriptions). His last wish was to be buried at Kolonos, the Athens neighbourhood where Plato lived and taught. By decision of the City Council of Athens, the mayor, Georgios Skoufos, wrote a letter to Lenormant's son, François, asking that his father's heart be buried in a memorial site at Plato's Academy near the memorial of the German poet and philhellene Wilhelm Müller. Indeed, Lenormant's heart was placed in a marble hydria, styled after an ancient funerary monument. The monument was unveiled in 1860 by Mayor Skoufos. However, the monument eventually suffered irreparable damage, as it was used as a target for shooting. Finally, in 1936, the Municipality of Athens commissioned the sculptor and later professor at the Athens School of Fine Arts, Michalis Tombros, to produce a copy of the hydria, which stands on the Kolonos Hippios Hill today.