Carl Friedrich von Norman
( 1784 - 1822 )
Germany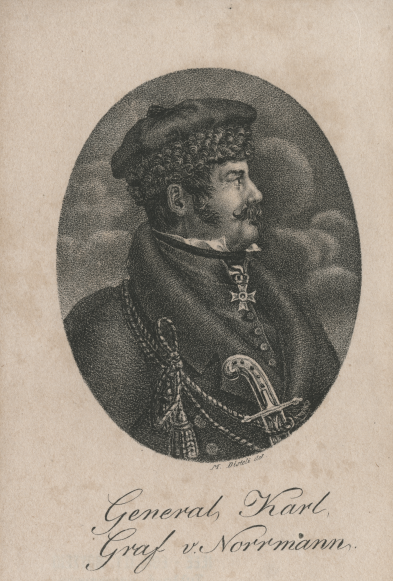 Great philhellene Karl Friedrich Leberecht Graf von Normann-Ehrenfels went down in history as the organiser of the military corps of philhellenes who fought on the Greek side in the War of Independence.
Born in 1784 in Stuttgart, Normann came from an aristocratic family. His father was a distinguished jurist and served as prime minister of Württemberg. Yet Karl decided to become a soldier and joined the Austrian army, where he quickly became an officer.
In 1803 he was transferred to the army of Württemberg and, when his country allied with Napoleon, he participated in the French campaigns. He fought against Prussia and in 1810 became the commander of a light cavalry regiment. In 1812, he followed Napoleon in the campaign against Russia; he was seriously wounded but managed to return home.
He also took part in the Battle of Leipzig in 1813; whereas in the first phase of the battle he was on Napoleon's side, in the second phase he followed the example of other German states and supported the Prussians. Normann risked being labelled a traitor by both sides; he therefore fled to Austria and later to Switzerland.
He was able to return to his country in 1817. He lived there with his family in seclusion on his family estate at Ehrenfels.
When the Greek War of Independence broke out, former comrades in arms approached him and asked him to support the Greek uprising. Normann was touched by the struggle of the Greeks and as an experienced military man decided to help. By helping the Greeks, he would also restore his name. The philhellenic committees appointed him leader of the philhellenic volunteers, and he left for Marseilles, where he boarded a ship for Greece, alongside 50 volunteers. He arrived in Navarino in February 1822.
He immediately demonstrated his military prowess when the Turks attackd Neokastro; Normann's effective artillery forced the Turkish fleet to retreat. In the following days, he visited the Peloponnesian Senate in Tripoli, where he was received with great honours.
Alexandros Mavrokordatos, president of the Greek government, had been planning an expedition to Epirus since January 1822, with the aim of taking Arta and helping the Souliotes. He sought to organise a regular army corps and Normann's presence was a great opportunity.
Normann essentially became Mavrokordatos's Chief of Staff, when the Epirus campaign was authorised, on May 11, 1822.
Thus, under Normann's instructions, three regular army battalions were formed in Corinth for the first time, with a total strength of 520 men; also, a force of irregulars, with many chieftains from various parts of Greece and a strength of 1500 men.
Normann was aware of several strategic issues from the very beginning: The soldiers moved slowly, whereas Normann wanted to surprise the Ottomans. Moreover, the irregulars would not take orders from anyone on the battlefield, which was the amply demonstrated by Bakolas.
Despite these problems, Normann and his regular army defeated the Turks at Kompoti on June 22, 1822, and pushed them back towards Arta.
In the following days, however, the problems loomed larger: Mavrokordatos would not listen to Normann, and the Greek forces were divided on many fronts, when it was decided for the final conflict to take place at Peta village on July 16, 1822. Mavrokordatos, commander in chief of the campaign, was six hours away from the battlefield. Regular and irregular Greek forces often moved in uncoordinated fashion. All this spelled a disaster for Greeks and a savage massacre for the philhellenic corps.
The Greek troops retreated towards Agrinio and Missolonghi.
Normann fought bravely and was seriously injured. Disillusioned, he died a few months later in Missolonghi. A great hero lost unjustly.